I'm so exciting to be joining a lot of other bloggers in hosting a Linky Party!
I detailed my idea in a post a few days ago
, and today is the very first party. Join in. Tell your friends. Share your recipes.
A few years ago, I visited a friend who made homemade bruschetta for us. It was so delicious! When I was single, I would make a batch about every week and eat it for dinner. I didn't have any one else to cook for, so it worked for me. It's always a crowd pleaser when served on fresh foccacia bread. I haven't made bruschetta in years, and the other day I ran across the recipe when I was looking for something else. Why didn't I think of putting it on pasta before? Brilliant, if I do say so myself. It is every bit as good as I thought it would be. If you are not going meat free, I think a little chicken mixed in would be great too.I served this with a little parmesan cheese and a side of steamed broccoli.
12-14 fresh, ripe plum tomatoes (or 28oz can diced tomatoes)
2Tbl minced garlic
1 cup fresh basil, chopped
1 tsp lemon juice
salt and pepper to taste
1/3 cup olive oil
spaghetti (I used Ronzoni Smart Choice)
Boil spaghetti according to package directions.
Dice tomatoes, or open can and drain.
Toss with garlic and basil.
Add lemon juice, salt, pepper, and olive oil.
When spaghetti is done, drain and toss with bruschetta.
I linked up to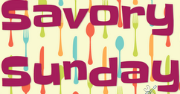 Link up with your Meat Free Monday submission below.